Conical Pole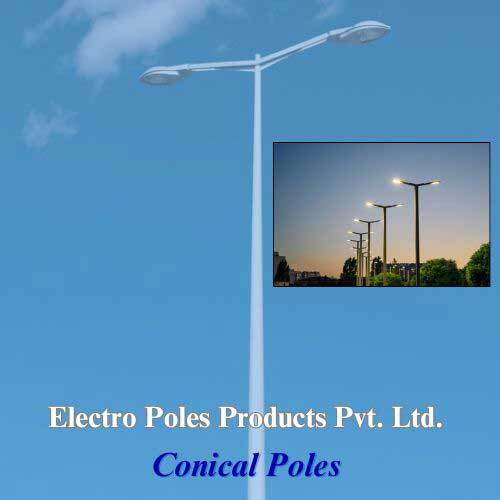 Conical Pole
Price And Quantity
Piece/Pieces

300.00 - 3000.00 INR
Product Specifications
Product Description
Electro Poles Products Pvt. Ltd., a 1985 established and ISO 9001:2015 certified company manufactures and supplies Conical Pole throughout India and countries, like Bangladesh, Bhutan, Europe, Middle East, Nepal and Sri Lanka. The surface of the pole is hot-dip galvanized. Customers can contact us to know about the pole length, top diameter, glass length, stiffener and bracket length. We also can customize all mentioned specifications for our customers. Our clientele mainly comprises government, semi-government and private bodies. Private bodies are majorly builders and contractors, who install the light pole surrounding skyscrapers, hotels, shopping malls, etc.
Key Features:
1) Conical Pole can be installed on highways, streets, stadiums and large parks.
2) This pole has a wide base, which can be screwed on the ground.
3) The diameter of the pole shrinks from the base to the top.
4) Customers get ISI marked poles that are easier to install and require less maintenance.
Payment Terms : 40% Advance Along with Po And Balance Before Dispatch


DESIGNATION, LOAD AND DIMENSIONAL DATA

DESIGN INFORMATION

POLE DIMENSIONS

DESIGNATION

NOMINAL MOUNTING HEIGHT

80 MPH w/1.3GUST

90 MPH w/1.3GUST

90 MPH w/1.3GUST

BASE OD (IN)

TOP OD (IN)

WALL THK. (GA)

STRUCTURE WEIGHT' (LBS)

MAX EPA' (SQFT)

MAX WEIGHT' (LBS)

MAX EPA' (SQFT)

MAX WEIGHT' (LBS)

MAX EPA' (SQFT)

MAX WEIGHT' (LBS)

20'-0''

19.3

482

15.1

377

12.2

305

5.90

3.10

11

140

590A200

24.2

605

19.3

482

15.6

390

6.50

3.70

11

160

650A200

25'-0''

12.5

312

9.9

247

8.0

200

5.90

2.40

11

155

590A250

20.3

507

16.2

405

13.1

327

7.00

3.50

11

200

700A250

30.5

760

24.0

625

19.8

495

7.00

3.50

7

280

700 E250

30'-0''

11.4

292

9.3

232

7.5

187

5.60

2.40

11

200

660A300

18.9

473

14.9

373

12.0

300

8.00

3.80

11

265

800A300

33.5

838

27.0

675

22.0

550

8.00

3.80

7

380

800E 300

35'-0''

11.2

280

8.9

222

7.1

177

7.30

2.40

11

250

730A350

18.0

472

15.1

377

12.2

305

8.50

3.60

11

315

850A350

23.2

520

18.2

455

14.5

363

9.50

4.60

11

370

950A350

39'-0''

10.7

267

8.5

212

6.6

165

7.82

2.40

11

285

782A389

17.2

430

13.5

338

10.8

270

9.00

3.58

11

355

900A389

28.5

715

23.0

575

19.0

475

9.00

3.58

7

515

900E389

45'-0''

17.4

435

13.5

338

10.6

265

10.00

3.70

11

450

T00A450

28.5

715

23.0

575

19.0

475

10.00

3.70

7

650

T00E450

50'-0''

13.2

330

10.6

265

8.3

208

10.00

3.00

11

475

T00A500

20.5

512

16.5

412

13.6

340

10.00

3.00

7

680

T00E500
ANCHORAGE DATA

POLE

BASE PLATE

ANCHOR BOLTS

BASE OD (IN)

WALL THK. (GA)

BOLT CIRCLE

SQUARE (IN)

THK. (IN)

DIAXLENGTHXHOOK (IN)

PROJECTION (IN)

+

-

(IN)

DIA (IN)

+

-

(IN)

5.90

11

9.00

0.50

10.00

0.875

1.00 x 36.00 x 4.00

4.13

0.25

6.50

11

9.50

0.50

10.50

0.875

1.00 x 36.00 x 4.00

4.13

0.25

6.60

11

9.50

0.50

10.50

0.875

1.00 x 36.00 x 4.00

4.13

0.25

7.00

11

10.00

0.50

10.88

0.875

1.00 x 36.00 x 4.00

4.13

0.25

7.00

7

10.00

0.50

10.88

1.000

1.00 x 36.00 x 4.00

4.25

0.25

7.30

11

10.50

0.50

11.25

0.875

1.00 x 36.00 x 4.00

4.13

0.25

7.82

11

11.00

0.50

11.50

0.875

1.00 x 36.00 x 4.00

4.13

0.25

8.00

11

11.00

0.50

11.50

0.875

1.00 x 36.00 x 4.00

4.13

0.25

8.00

7

11.00

0.50

11.50

1.250

1.25 x 42.00 x 6.00

5.00

0.25

8.50

11

11.50

0.50

12.00

1.000

1.00 x 36.00 x 4.00

4.25

0.25

9.00

11

12.50

0.50

12.38

1.000

1.00 x 36.00 x 4.00

4.25

0.25

9.00

7

12.50

0.50

12.38

1.250

1.25 x 42.00 x 6.00

5.00

0.25

9.50

11

13.00

0.50

13.00

1.000

1.00 x 36.00 x 4.00

4.25

0.25

10.00

11

13.50

0.50

14.00

1.000

1.00 x 36.00 x 4.00

4.25

0.25

10.00

7

13.50

0.50

14.00

1.250

1.25 x 42.00 x 6.00

5.00

0.25
Trade Information
EX-FACTORY

5000 Per Month
Contact us for information regarding our sample policy

Asia, Australia, Central America, North America, South America, Eastern Europe, Western Europe, Middle East, Africa
All India, Himachal Pradesh, Meghalaya, North India, Mizoram, Uttarakhand, Chhattisgarh, West Bengal, East India, Odisha, Pondicherry, Lakshadweep, Telangana, Uttar Pradesh, Tamil Nadu, Jammu and Kashmir, West India, Gujarat, Jharkhand, Karnataka, Nagaland, Madhya Pradesh, South India, Chandigarh, Maharashtra, Arunachal Pradesh, Delhi, Goa, Manipur, Assam, Andaman and Nicobar Islands, Kerala, Haryana, Sikkim, Daman and Diu, Andhra Pradesh, Dadra and Nagar Haveli, Punjab, Central India, Rajasthan, Bihar, Tripura